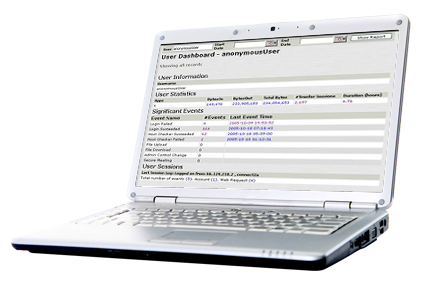 SSL ClearView Reporter
Written expressly for the Juniper Networks SSL VPN, the SSL ClearView Reporter™ application takes log data from one or more SSL VPN devices and generates feature-rich reports that provide security professionals valuable insight into network usage and user activity. It also enables IT managers and stakeholders in regulatory compliance (such as PCI, HIPAA, SOX and more) by providing a comprehensive, easy-to-use platform for log review.
SSL ClearView Reporter is offered as an appliance-based solution that deploys in minutes. Soft Appliance and Virtual Appliance options are also available. Dozens of pre-defined report views get you the visibility you need right out of the box.
ClearView features a Web-based interface for easy accessibility and fast performance. ClearView's intuitive user interface allows administrators and users to create custom reports quickly and easily without the need for detailed knowledge of log data structure or database schema.

Features and benefits
Appliance-based Solution Options
Pre-configured appliance-based deployment gets you up and reporting within minutes. A variety of appliance models are available to meet any performance and log storage requirements.
Virtual Appliance Options
Cost-effective soft appliance and virtual appliance options offer great flexibility for mid market customers.

Web-based Administration
Once up on the network, ClearView can be managed via any web browser. No fat GUI client software to install or bloated java interface to slow you down.

Customizable Dashboards Customizable
Dashboards provide quick and easy visibility to your most important metrics.
Real time reports
Data is available for reporting within a few seconds of the time the log is generated by the source device.
Pre-defined Reports
Dozens of pre-defined report views get you the visibility you need right out of the box.

Custom Reports
With ClearView's Intuitive interface for custom report creation, database schema and log format knowledge is not required to create your own reports.
Drill Down on all Reports
Full Drill down is available on all reports with up to four levels of detail. ClearView provides the ability to drill down to raw log entries from any report view.

Report Export
All Reports can be exported to Microsoft Excel®, PDF, HTML and CSV formats

Scheduled Reports
Any report can be scheduled; daily, weekly, monthly, one-time, or based on a custom date range. Multiple delivery formats are available – pdf, excel, csv and html. Multiple delivery mechanisms are supported – email, ftp and the built-in web portal.

Workflow Enablement
For any scheduled reports, acknowledgement can be required. This creates an audit trail documenting when reports were run and reviewed and by whom.
Authentication Options
Multiple authentication mechanisms for users are supported including; Local, RADIUS, LDAP and Active Directory

Granular RBAC
ClearView enables delegation of the proper access to administrators and report consumers with its granular role based access controls

Advanced Data Segmentation
ClearView can be configured to logically segment data based on source device/node, Virtual System, Realm and Role. This is an optional feature for ClearView Enterprise editions and standard in our Service Provider editions.

Alerts and Monitoring
Threshold-based alerts can be created to monitor key health parameters and security events. Alerts can be delivered via email, SMS messaging, and SNMP traps. Alert status is also displayed on the dashboard.

Easy Upgrades
Upgrades can be initiated through the web-based management interface. Access to the latest version is included with any support contract.

Data Retention
Data Retention policies can be configured and scheduled via the web interface. All database management is handled transparently by ClearView. No DBA is needed.

Backups
Backups can be scheduled and stored locally as well as automatically sent to a remote storage server.
HA Clustering Multiple appliances can be clustered for high availability for non-stop reporting

Distributed Architecture
Remote collectors can be deployed for local monitoring and alerting as well as log collection. Remote collectors compress and forward logs on a configurable schedule and add bandwidth throttling capabilities.

Remote Assistance
If enabled and initiated by you, our technical support team and developers can interactively troubleshoot issues on your device as well as help with new data imports.
Reporting Categories

SSL ClearView Reporter provides full drill-down capability from top line summary to event data, with granular data filters and graphic output on all reports, as well as report scheduling and bookmarking. Reports are available in Microsoft Excel®, Adobe PDF, HTML and CSV formats.